Every Thursday is when we have, delivered to our front door, fresh veggies from Bryson Farms in Shawville, Quebec. This has been a real Godsend, particularly through Covid. When other people are checking to see where that Costco veggie came from that may be contaminated, we KNOW that ours is safe because of where it came from…a local, certified organic farm. It is all year round too so we do not rely on it only during harvest season, but really and truly all year long.
Recently, from Bryson Farms, we have been getting a lot of very very interesting mushrooms such as:
Lion's Mane Mushrooms
Shiitake Mushrooms
Blue Oyster Mushrooms
Honey Mushrooms (just in the fall)
Lobster Mushrooms
Chanterelles (my favourite!)
As well, we get lots of interesting root veggies from a variety of beets, mangels and including the amazing parsnip! What better recipe to pull up than Mushroom Parsnip soup! And it is dairy, gluten & potentially vegetarian, if you use vegetable broth vs chicken broth. It just gets better each and every day too!!
Another GREAT find is NY Times Cooking. I do not think that we have EVER had a recipe from here that wasn't totally amazing! I subscribe to it now because it is my go-to for recipes. I find the notes that people have added are a great help too.
Be sure to check out this recipe. I made it exactly as the recipe called for. I would suggest adjusting the salt a bit if you are using stock that has salt.
ENJOY!!!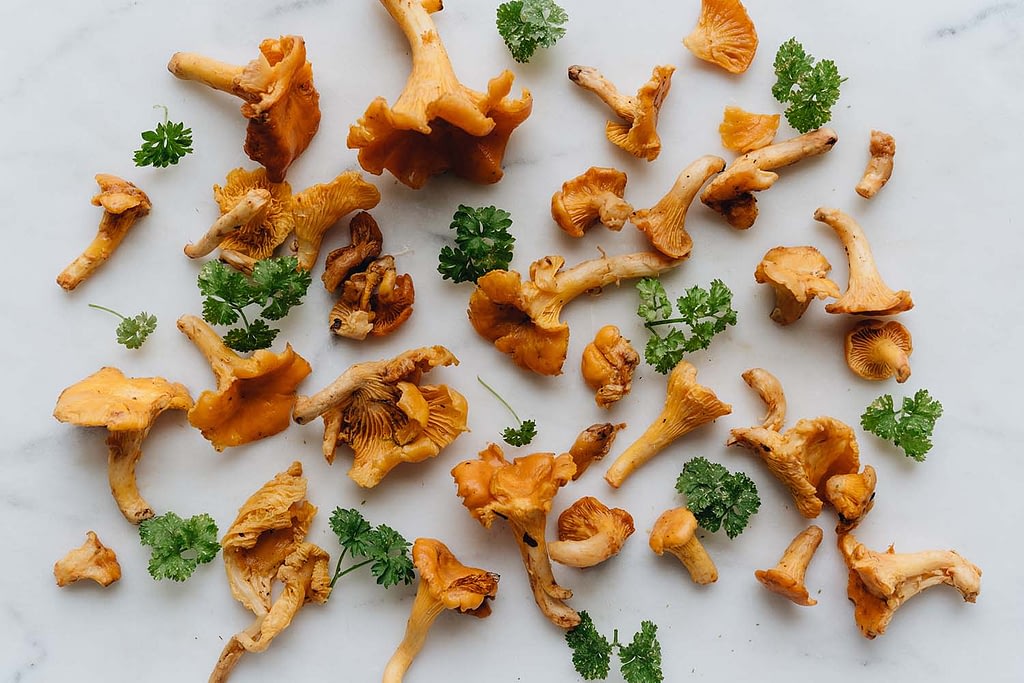 Ingredients
2 tbsp butter
2 medium onions, sliced
2 small parsnips, peeled and chopped
1 small carrot, peeled and chopped
1 thyme branch, plus 1 tsp thyme leaves, finely chopped
1 bay leaf
Salt
Pepper
6 cups chicken broth, more if necessary
2 tbsp chopped dried morel mushrooms or porcini mushrooms, soaked in hot water for 15 minutes then drained
2 tbsp olive oil
1/2 pound chanterelles or other wild mushrooms, in rough 1/8 inch thick slices
2 garlic cloves, minced
6 slices day old baguette
2 tbsp chopped parsley
Creme fraiche for serving
Method
Melt the butter in a deep heavy bottomed soup pot over medium heat. Add the onions, parsnips, carrot, thyme branch and bay leaf. Season generously with salt and pepper. Cook, stirring frequently, until the onion is soft and lightly browned, about 10 minutes
Add the broth and the soaked, dried mushrooms. Bring to a boil, then adjust the heat to a simmer.
Meanwhile, heat the olive oil over high heat in a wide skillet. When the oil is hot, add the chanterelles, stirring with a wooden spoon, allowing them to brown a bit. Season with salt and pepper, then turn the heat to medium and saute for 5-7 minutes, until the mushrooms are cooked through. Add the garlic and thyme leaves and cook 1 minute more.
Transfer 1/2 cup of the cooked chanterelles to a small skillet and add the rest to the soup. Let the pot simmer until the parsnips and carrot are quite tender, about 15-20 minutes.
Discard the bay leaf and thyme branch. Puree the soup in a blender and strain through a fine-meshed sieve. Thin with more broth if it is too thick, and correct the seasoning. Keep hot.
Warm the reserved mushrooms. Toast the baguette slices lightly and put a spoonful of mushrooms on each. 
Ladle the hot soup into bowls. Top each bowl with a mushroom toast, chopped parsley and drizzle of creme fraiche.