Charcuterie boards are my absolute favourite appetizer to prepare for my own party or to bring to a party. Sometimes I even throw a quick mini one together for Steve and I to enjoy as a pre-dinner treat on a weekend. They are great because they are always different, there is something for everyone and it's a great way to try new things! I have a couple of rules I follow when I prepare them that makes for a perfectly balanced board every time. 
The Cheese
Always use an odd number of cheeses. I like to use 3 or 5 different types depending on the size of the group.
Every cheese should have a different texture and/or flavour – I never include two types of cheddar for example or two cheeses with a smoked flavour
Be sure to include an "approachable" cheese – many people do not like blue cheese so you wouldn't want to include only blue cheese. Cheddar, Gouda, Havarti – these are all familiar cheeses with mild flavours
I usually include a soft cheese such as brie or camembert, a medium-hard aged cheese like cheddar, a fresh cheese like burrata or feta, a very firm cheese like asiago or parmesan and my favourite…a blue cheese…the bluer the better in my opinion. If I am only using 3 cheeses I go for a soft, medium-hard and a blue
Try your best to have the cheese at room temperature
*For vegans, there are great options in nut cheeses, my favourite is a cashew cheese*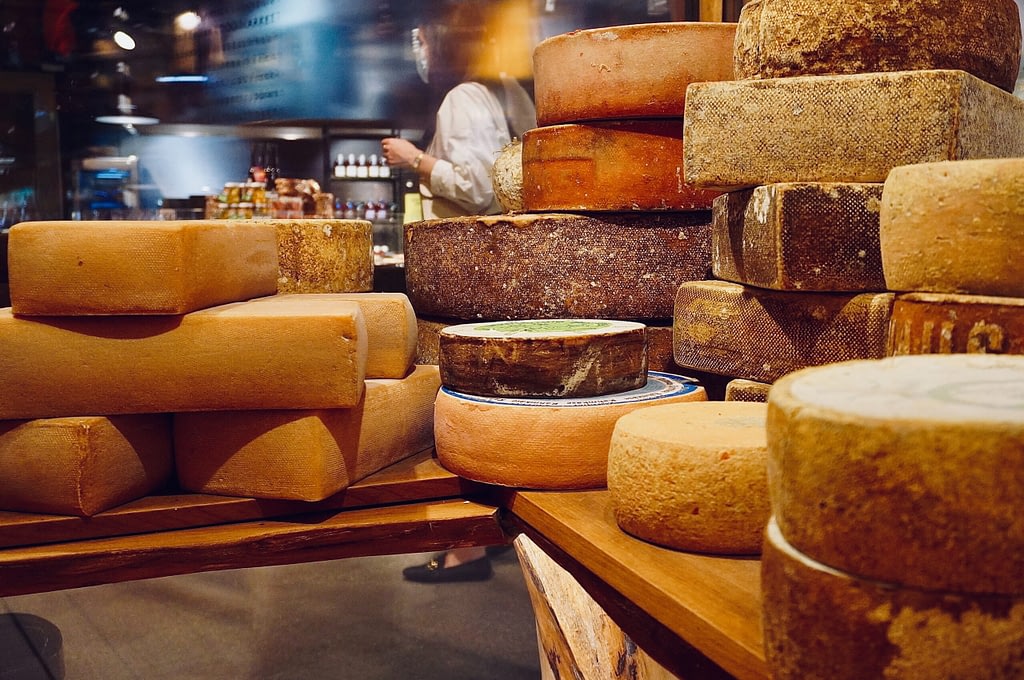 The Meat:
Obviously meats are not necessary for a charcuterie board but I almost always include them.
I always include prosciutto or Iberico ham which I pile in ribbons around the board
I also tend to include a mild and soft salami like Genoa
I also like a hard cacciatore type salami sliced in rounds
For children, mild pepperettes sliced up are fun as well
The "Fillers":
For me, cheese and meat make up the main part of any board but the fillers or extras are key to create the perfect balance in texture and flavour. Below are my favourites. 
Olives – love a mix of different olives
Seasonal fruit – don't use strawberries in the winter, opt for clementines or figs! A halved pomegranate is beautiful!
Nuts – great for adding crunch
Spreads like preserves and local honey
Crackers and carbs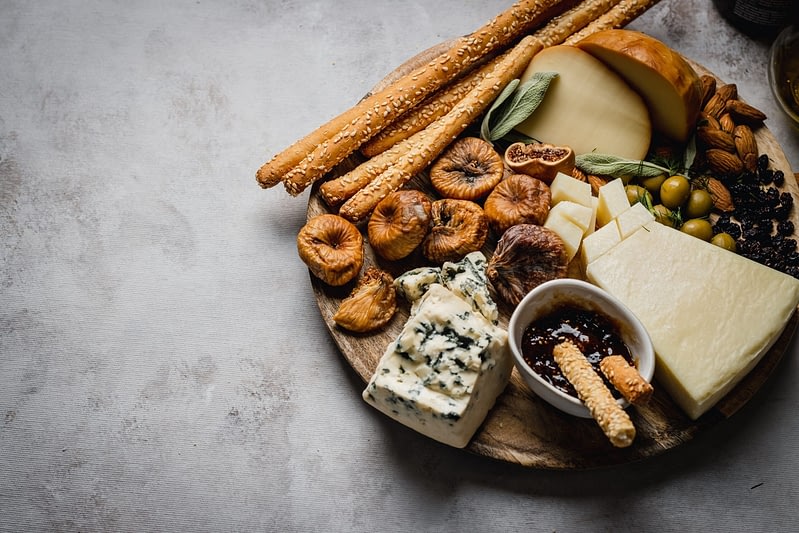 Putting it All Together:
Remove your cheeses from the refrigerator at least 1 hour before serving. I like to slice some of the harder cheeses so it's easier for people to eat.
Place the cheeses on the board first followed by the cured meats. Be sure to leave some room for people to have access to the cheese. 
I use little bowls on the board to fill with olives, pickles, hummus or other spreads I'm using. 
Fill in the gaps with fruit, nuts and lastly drizzle honey over the blue cheese! This is KEY and will make a blue cheese lover out of anyone. 
If there is space I put baguette, crackers and bread sticks on the board as well but usually I don't have space and just include them in a basket on the side. In my opinion breads are not an absolute must for a board but I know they are usually expected.
What is your favourite thing to have on a charcuterie board?