Did you get a fondue set as a wedding present? If you did I will guess that you were married somewhere in the 70s or 80s. There were fondue restaurants…fondue parties even! I desperately tried to fondue everything from hot dogs to chicken livers. (WHY Harry ever stayed married to me after those early-marriage cooking fiascos I do NOT know!) 
We have seen other fads through the years…from my mother's jellied salad (oh please may I forget the green salad with mayonnaise!) to oat bran in the late 1980's…to crock pot meals in around that same time. Bacon was a big hit for awhile. Then cauliflower. Lest we forget the avocado!! 
There are fads that occur over the years and sheet pan meals are one of the current fads. Here is one of my favourite sheet pan recipes. So easy and so tasty! If you haven't tried fennel….you must! It is so good…both cooked and raw in salads, with its delicate liquorice flavour. 
What are some of the fads that you enjoyed OR have nightmares about still, years later?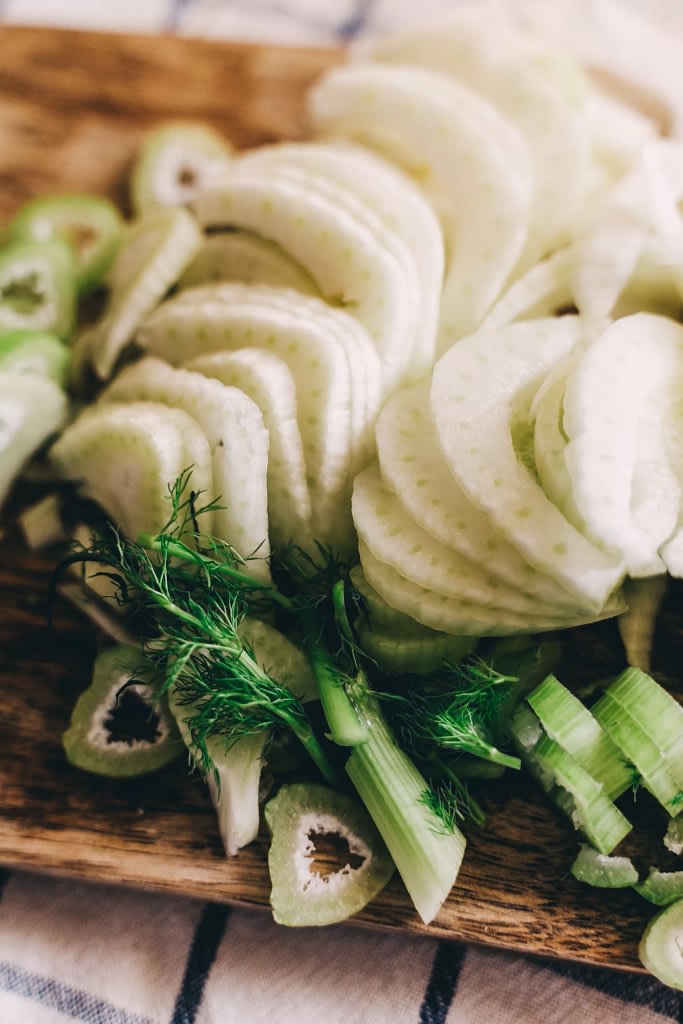 Ingredients
2 teaspoons fennel seeds
2.4 – 3 lbs bone-in, skin-on chicken thighs, patted dry
3 tbsp olive oil
kosher salt and pepper
1 medium yellow onion, thinly sliced
1 medium fennel bulb, tough outer leaves removed, cored and thinly sliced
1 tart apple such a Crispin or Granny Smith, halved, cored and cut into 8 wedges
4 sprigs rosemary
Flaky salt, for serving
Method
Heat oven to 425 degrees. In a small skillet toast the fennel seeds over medium low heat, stirring frequently until fragrant, about 2 to 3 minutes. Pound into a coarse powder with mortar and pestle or roughly chop. In a large bowl, toss the chicken with 1 tbsp olive oil and the fennel seeds and season well with salt and pepper.
Place the onion, fennel and apple slices on the sheet pan. Toss with the remaining olive oil and season well with salt. Spread in an even layer. Add the chicken skin side up on top of the vegetables and lay the rosemary on top of the chicken. Roast for 25 to 30 minutes until chicken is cooked through and the onions, fennel and apples are softened and have begun to caramelize at the edge of the pan.
Turn the oven to broil and move oven rack to sit right below it. Remove and discard rosemary sprigs and broil the chicken for 1 to 2 minutes until skin is crispy and golden. Season well with flaky salt.
Be sure to let us know what you think if you make this!