When I think of spring I think of fresh asparagus (ok and fiddleheads too)! With the help of my trusty Instant Pot, which never ever leaves my countertop, this quick dish turns out delicious with the freshest taste ever!! Enjoy!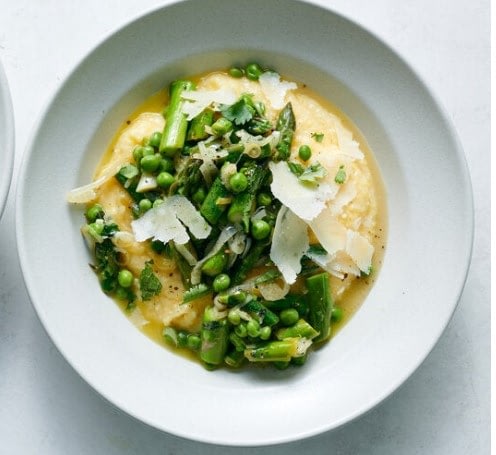 Ingredients
1 cup polenta (not quick-cooking)
1 tsp kosher salt
Freshly ground pepper
3 tbsp unsalted butter
4 oz Pecorino and/or Parmesan cheese, finely grated, plus more for serving
2 large shallots, thinly sliced
3 thinly sliced garlic cloves
2 tbsp dry vermouth or white wine
2 pounds asparagus, trimmed and cut into 1″ pieces
1 1/2 cups fresh or frozen peas, no need to thaw frozen peas
1/3 cup vegetable or chicken stock
1-2 cup torn mint leaves or use a combination or parsley, cilantro or other soft herbs
Freshly ground black pepper
Method
Whisk polenta and 4 cups water in Instant Pot until combined. Season with 1 tsp. salt and several grinds of pepper. Bring mixture to a simmer over medium-high, whisk again, then seal pressure cooker according to manufacturer's directions. Cook at high pressure for 9 minutes. When timer goes off, manually release pressure. Carefully open lid and whisk polenta until homogenous and creamy.
Whisk butter into polenta, then gradually add 4 oz. Pecorino, whisking until melted. Taste and season with more salt, if needed, and lots of pepper.
Transfer polenta to a wide shallow bowl. Top with more cheese and coarsely grind more pepper over.
As the polenta cooks, prepare the vegetables. In a large skillet heat oil over medium heat and add shallots and saute until tender and golden, 4 to 6 minutes.
Stir in garlic and cook for another minute or two, until fragrant and very lightly golden in spots. Add vermouth and cook until alcohol evapourates, about 2 to 3 minutes. 
Stir in asparagus and peas, and cook until vegetables are glossy, 2 to 3 minutes. Add stock, 2 tablespoons of butter and a large pinch of salt, and bring to a simmer. Cook until vegetables are tender and sauce thickens slightly, 2 to 8 minutes. Stir in the mint (or other herbs). Taste and add more salt, if needed.
To serve, spoon polenta into bowls, top with vegetables and their sauce and grind on lots of fresh pepper. Finish with shaved parmesan.
Let us know what your favourite spring dish is in the comments below!