Chef Christina Mast, formerly from Two Sisters Vineyards in Niagara, shares her perfect roast chicken recipe in this season's Food & Drink magazine. The magazine is in stores now but you can also get all the recipes online. 
I LOVE roast chicken. For me, it is the epitome of comfort food plus you get amazing leftovers for sandwiches, stock, soup, quesadillas and more. There were three chef's "perfect roast chickens" highlighted in the magazine but Mast's spoke to me because of the lemon, herb and butter flavour combo. So classic, but so good! I will likely try the others too but wanted to share this one right away as it was simple and delicious…even for a roast on a weeknight.
Ingredients
3 1/2- to 4-lb (1.585- to 1.81-kg) organic chicken
1/2 cup (125 mL) unsalted butter, room temperature
2 tbsp (30 mL) fresh thyme leaves, divided
Big pinch dried oregano
1 lemon, zested, then halved1 1/2 tsp (7 mL) Diamond Crystal kosher salt, divided
1/2 tsp (2 mL) black pepper, divided
5 garlic cloves, 2 grated on a rasp, 3 smashed and peeled
1 medium fennel bulb, trimmed, cut in half lengthwise, then sliced into 1/2-inch (1-cm) wedges
1 lb (455 g) baby yellow-fleshed potatoes, cut in half
3 medium shallots, peeled and sliced in half lengthwise
2 tbsp (30 mL) extra virgin olive oil, divided
Method
Preheat oven to 350°F (177°C).
Bring the chicken out of the fridge and allow it to sit on the counter at room temperature while prepping the rest of the recipe. This will help you rub the butter onto the chicken without clumping later.
In a small bowl, combine butter with 1 tbsp (15 mL) of thyme, oregano, lemon zest, 1/2 tsp (2 mL) salt, 1/4 tsp (1 mL) black pepper and the grated garlic. Stir to combine.
Toss fennel, potatoes, shallots, remaining garlic and 1 tbsp (15 mL) of thyme with 1 tbsp (15 mL) of olive oil, 1/4 tsp (1 mL) black pepper and 1/2 tsp (2 mL) salt. Toss together and place in the bottom of a heavy-bottomed roasting pan.
Gently lift the chicken skin from the meat of the breasts by placing your fingers between the skin and the meat. Move around and separate the membrane that attaches the skin from the breasts, as well as around the thighs and drumsticks. Then take three-quarters of the butter mixture and spread generously between the skin and the meat.
Season the outside of the chicken with the remaining 1 tbsp (15 mL) of olive oil and 1/2 tsp (2 mL) salt. Stuff lemon halves into the chicken cavity, then tie the legs together with kitchen string. Spread the remaining butter mixture all over the skin, especially the breast.
Place chicken on prepared potatoes and fennel, and roast in the oven for about 1 hour. Then remove the roasting pan from the oven and turn up the heat to 375°F (191°C).
Tilt the pan and gently baste the chicken with the juices. Move around potatoes, shallots and fennel to ensure even browning. Return pan to oven. Roast until an instant-read thermometer inserted into the inner thigh near the breast without touching the bone reaches 165°F (74°C), another 30 to 40 minutes. (Rotate pan a few times to ensure even crisping and browning.) Rest for 20 minutes. (Note: If using a convection oven, roast 40 to 50 minutes at 350°F/177°C, then 25 to 30 minutes at 375°F/191°C.)
Squeeze all the juice from the roasted lemon into the pan, then spoon the roasting liquid over everything. Carve chicken and serve with roasted fennel and potatoes.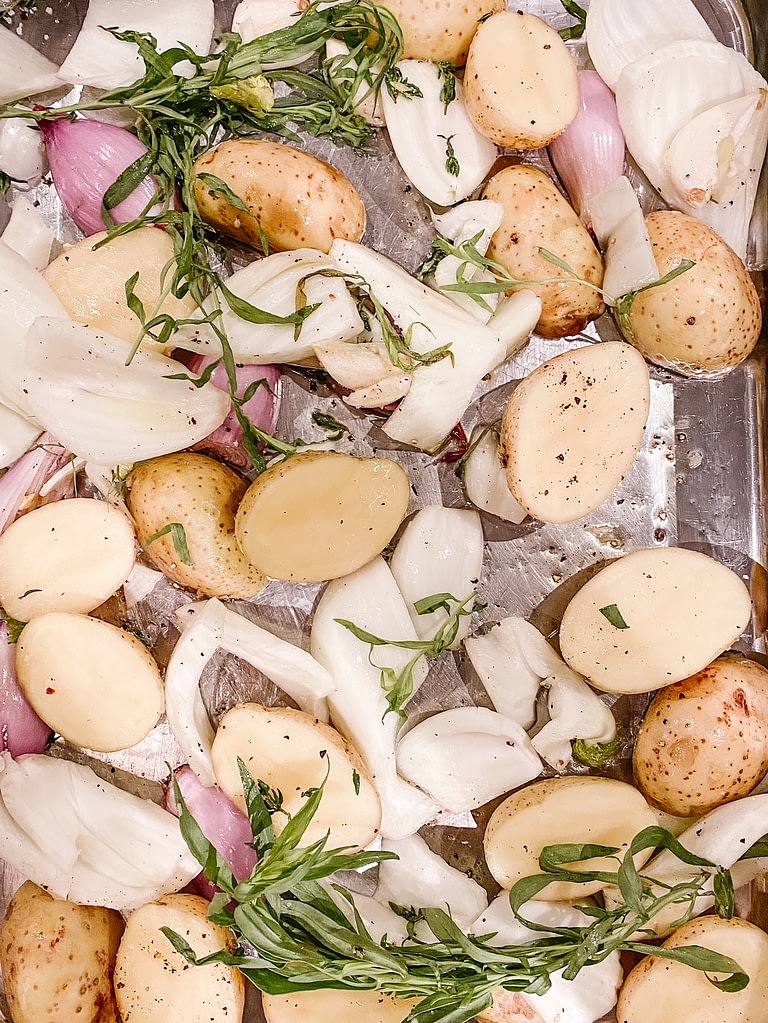 My Notes
I used a smaller chicken, about 3 lb, so I cut the cooking time by about 10 minutes on each step and it worked very well. I got my chicken at my favourite butcher, Ivan's Meat & Deli on Stittsville Main Street. 
I let my chicken sit in the fridge all day, uncovered on a plate. This is a trick I learned from Bon Appetit. It allows it to get really crispy when cooking because the moisture leaves the skin. I also let it come to room temperature before putting it in the oven.
I didn't have Diamond Crystal salt so I used sea salt which worked very well. I also didn't have any dried oregano so I used 2 tablespoons of fresh which was delicious. 
Don't be squeamish about getting the butter under the chicken skin. It's easy!
I served this with a big green salad on the side but it would be great with steamed green or yellow beans, or really any steamed veg! 
Final Thoughts
We loved the result which was a deliciously flavoured juicy chicken, with crispy skin. Tender potatoes with just the right amount of browning on them with melt-in-your-mouth fennel. The squeeze of the roasted lemon over the top of everything was key, as Mast says in her recipe. The pan juices mixed with the lemon become the simplest yet most flavourful gravy. Delish! 
We ate it too quickly to take a photo of the final product so I will add the next time we make it. 
What is your favourite thing to roast? Let me know in the comments below and don't forget to share your photos with us if you make this recipe too!