My family and I moved to Richmond in March of 2021. Having gone to high school in the area, I thought I knew what Richmond had to offer:  a close knit community, quiet neighbourhoods, greenspace, fair grounds and, of course, the Jock River. I was surprised to find out that it has much more! It does have all that I mentioned, but it also has so much more!
Parks and Trails
My family is myself, my husband and my 18 month old son. Any parent of an 18 month old knows how important it is to get outside for both parents and children. My son loves to be outside and our neighbourhood has two parks that are right around the corner from our house. There is also a park just a bit further away; located on the fairgrounds. It is a great park if we want to go for a longer walk before hitting the slide.
These are just the parks we have frequented recently. There are many playgrounds scattered through Richmond's neighbourhoods, both young and old.
Parks aside, the trails in Richmond are outstanding! At first we meandered around the river and felt the trail was quite short, while still noting the great grass area to have picnics.
A few days later we found the entrance to the Rideau Trail along the river through a different entrance. We are finding that as soon as we feel we have seen what this town has to offer, it surprises us with something new.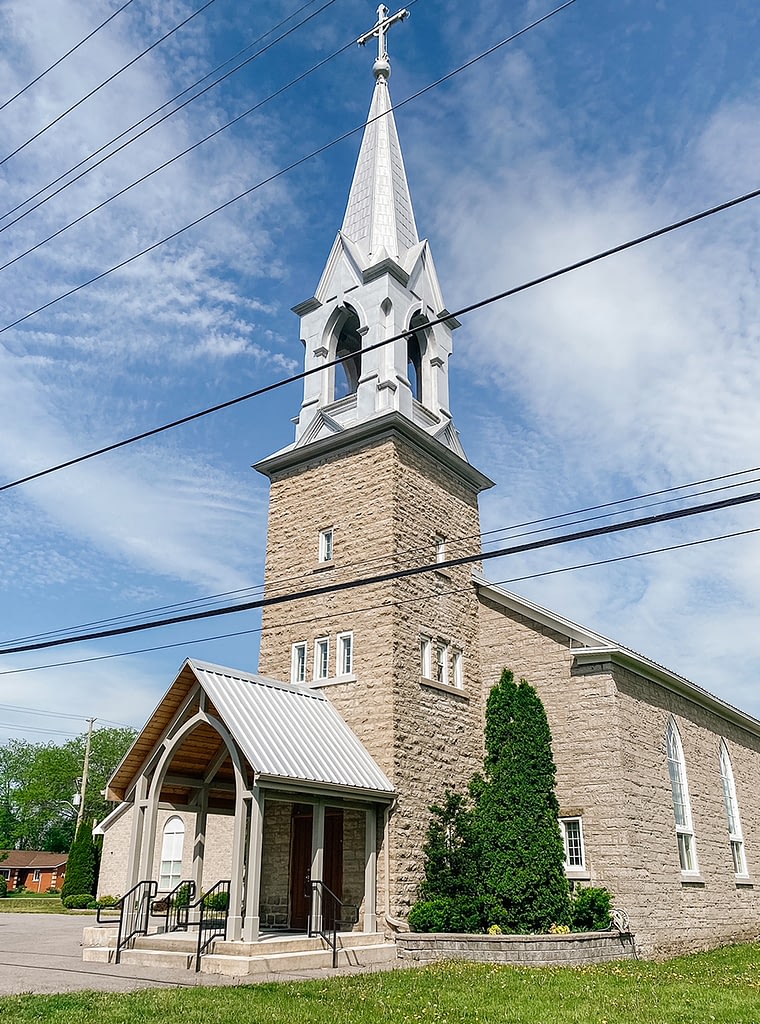 The History of Richmond
Richmond was founded in 1818 as a military point for settlers to Upper Canada. The town was named after Charles Lennox, the Duke of Richmond, who was Governor General of Canada in 1818. He died in a barn just 4 miles from the Jock River from a fox bite. Older than Ottawa itself, the village houses numerous historic buildings including the oldest Catholic Church in Ottawa.
St. John's Anglican Church offers one of the best greenspaces in the town; a quiet garden with a meandering stream. My son absolutely loves to explore the banks of the water here. Believe it or not, we can actually keep him relatively peaceful and quiet while he is doing so.
Restaurants
I love cooking! But I also love a break and going out to eat or ordering takeout. We have found a number of great spots for just this!
The Blue Diamond Bar & Grill was a surprise: amazing Indian food and delicious pizza. The Richmond Gourmet is a great spot for sandwiches and I love their French fries. We've also come to adore a quirky little coffee shop by the name of CC's Corner. I've also recently found out that Danby's Roadhouse is not just a great spot for breakfast or a bite to eat, but it also offers some delicious baked goods using the famous Richmond Bakery's recipes.
Our Saturday morning ritual has become a walk to CC's, followed by a stroll along the river before returning to one of our many neighbourhood parks to play.
We already feel at home in our new neighbourhood with the friendliest people surrounding us. Last Saturday, I was the recipient of some gorgeous perennials from a new neighbour!
I knew that I would like Richmond and feel good about moving here. In only three months time I know that I will love Richmond and moving here was the best choice we could have made for our family.
Want to make Richmond your neighbourhood too? We can help you find your perfect home here! Contact us for more details!